World-Famous or Legendary  Muskie "Hotspots"  Part III
World-Famous or Legendary Muskie "Hotspots" Part III
by Larry Ramsell, Muskellunge Historian
A Story to Tell.
Our next Hotspot has a story connected with it. An important story. To keep you in suspense regarding this Part's first "Hotspot", I am going to tell that story first…bear with me.
In Part I, I noted that I believed that the Chippewa Flowage Muskie Tagging Study was…"the real start of promoting (key word "promoting") Muskie release"…and that …"The number of muskies caught and released increased dramatically"…"during those years." Not to mention a big increase of muskies caught over 40 inches from the Chip over those seven years.
But I cannot, in good conscience, leave it there. Catch and Release is far too important and its earlier origins need be told. Muskie's, Inc. catch and release promotion and the parallel increase of catch and release promotion by many other important organized muskie clubs such as the country's oldest known muskie club, The Muskellunge Club of Wisconsin, founded in the 1953, and others like Bill's Muskie Club, the Kentucky Silver Muskie Club, Musky Hunters Inc., Dave's and the Packerland Musky Clubs, instrumental in initiating the restoration of the Green Bay, Wisconsin muskie fishery, the Iowa Great Lakes Muskie Club, the Ohio Huskie Muskie Club, the Pennsylvania Muskie Society, the Niagara Muskie Association, the Michigan – Ontario Muskie Club and now The Musky Clubs Alliance of Wisconsin (www.MuskyClubs Alliance of Wisconsin.org), the umbrella organization of over two-dozen Wisconsin based musky clubs working for the betterment of the muskie fisheries of Wisconsin, Muskie's, Inc. now with over four dozen US Chapters (www.muskiesinc.org), the Hugh Becker Foundation and our friends north of the border, Muskies Canada Inc., instrumental in the Lake Simcoe muskie restoration, now with fourteen Chapters, The Alliance, MI and MCI contributing huge to scientific research, along with many, many other clubs all get credit for the promotion of catch and release. These organizations have raised literally millions of dollars to be spent on North American muskie fisheries! Too, we cannot forget the media and social media that perpetually helps spread the word; MuskieFirst and its long running muskie forum along with the Musky Hunter forum on the Internet, the new Muskie Insider weekly Internet muskie news and in print is the long running Musky Hunter magazine, MI's Muskie magazine and MCI's Release Journal, to mention just the more prominent outlets.
Today's muskie anglers should know why the "NORM" today is to "release" rather than "keep" as was done in the old days. Yes, there have long been muskie anglers beginning in the old days that released muskies, but the old-time anglers were normally an independent lot, not given to sharing their experiences with others and when they kept one, it was usually the larger specimens, to the detriment of the fishery. Again, the key word is "promotion", and today's acceptance of the catch and release ethic has been accomplished by muskie organizations.
And yes, I know this series of articles is about Famous or Legendary Muskie "Hotspots", but I feel this important, big part of muskie history cannot be left out. And it also relates to one of this Parts "Hotspot".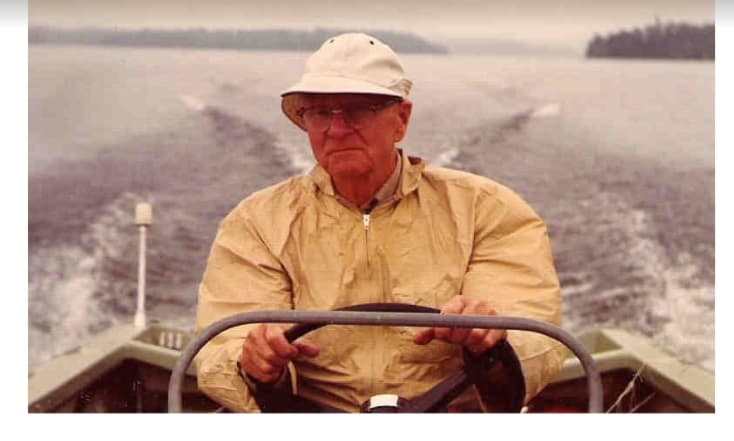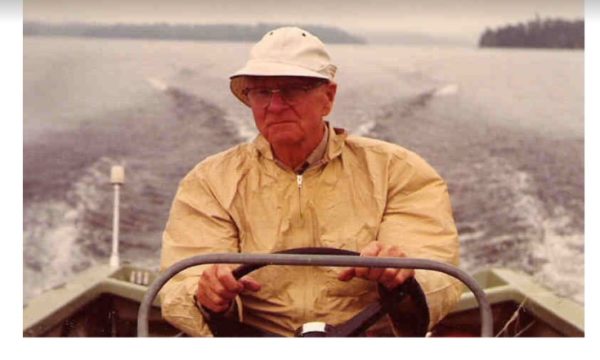 My dear friend the late Gilbert Hamm-photo by author in Gil's boat. Gil was a tireless advocate of the muskie and clean water and one of the finest people this humble servant has ever known!
Muskie's, Inc. was founded by the late Gil Hamm in late 1966. One of the early Board Members of the organization was my good friend Dr. Jerry Jurgens. Dr. Jerry had the following to say about Gil and the beginnings of the Muskie's, Inc. release program:
Gil…"was an incredible man with foresight. No one, as far as I know was releasing muskies when I was invited to join the Board in 1969. We had a hard time getting anyone to pay attention to us. This included the Twin Cities papers as well as the Mn. DNR. For us Mn. Muskie boys the big action was the Walker (Leech Lake, MN) Muskie Days held each summer for many years."…"However, we were gathering members, mostly from Mn. But also some out of state folks"…"By 1970 we thought we were important enough to cosponsor the Walker Muskie Days. Gil, other Board members and I visited with the Walker folks in the winter of 70-71 and were basically laughed out of town. So, we went to the Cass Lake Sportsman's Club (a competitor of the Walker folks) and they welcomed us to sponsor a Tournament at the same weekend as Walker Muskie Days. We included all the surrounding Muskie Lakes except Leech Lake. We had over a hundred different boat contestants while Walker had about 25 boats. We got Walkers attention and the next year we sponsored the Tournament including Leech Lake and it was titled Muskie's, Inc. Tournament.
"Regarding the Muskie's, Inc. Board discussing the release program I am not sure how that began I think Gil was the first to propose the issue. At the time all of us were basically eating them just as we would northern pike. However, Gil got us thinking about it. Our first program to induce release was to award a small patch with "Released" on it suitable for sewing on one's clothing.
Then we decided to have a "Release division" in our 1971 (weekend) tournament. (MI started a Member's Only Contest division for "release" in 1970. However, even that got a slow start, as whomever oversaw the contest for 1970 forgot to get a trophy for the winner that year, which ironically, was me! I only released 3 muskies in 1970, but it was a start for the program. I had driven in the dead of winter from my home in central Illinois to Minneapolis for the award ceremony for naught. Gil quickly had a trophy made up and sent to me and I now still proudly display it 50 years later!…LR).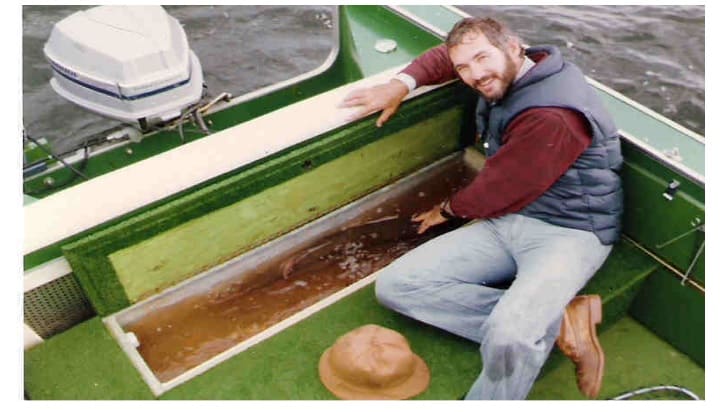 "Dr. Jerry" calming a muskie prior to release-author photo.
At any rate, the muskie fishing Ramsell clan went to the Annual Muskie's, Inc. Tournament in 1971 and witnessed an amazing event! Near the very end of the tournament, we arrived back at the resort dock on Lake Winnibigoshish. At the resort next door there was a lot of commotion going on…we had to find out what it was all about…Seems Dr. Jerry Jurgens had caught a 50-inch muskie and was about to RELEASE IT!! Wow! He did, and as I told him later, …"It was the greatest sporting thing I had ever seen!"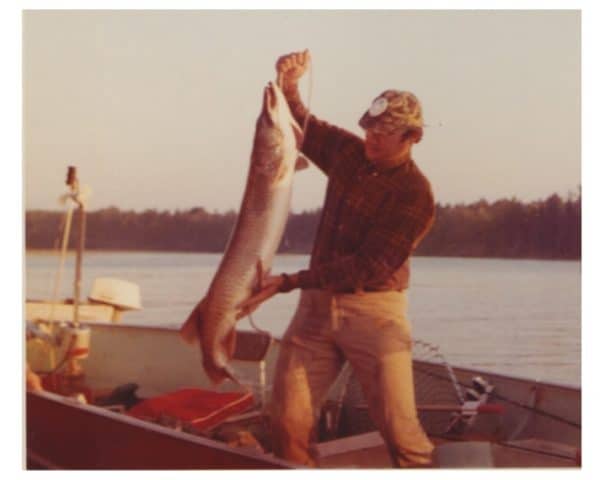 Dr. Jerry Jurgens and the Release that kicked off the "Excitement" of Catch and Release! Author photo.
To continue Jerry's story…"Fortunately the then Mpls. Star outdoor sportswriter was also covering our Muskie's, Inc. Tournament. It was our first tournament with a release division"… He took a picture of the release and put it…"in the papers sports section. That picture was picked up and also placed in the New York Times paper"…"My good fortune of catching a 50" in that tournament was a highlight in my life and in getting muskie fishermen to consider releasing their caught muskies…"
So, there you have what I believe to be the true beginnings of something that has and will continue to benefit muskie fisheries and muskie anglers forever into the future! Over 427,000 muskies have been released since that time by Muskie's, Inc. members alone and when you add in the hundreds of thousands of numbers of releases from all other organized muskie clubs as well as independent muskie anglers, the release numbers are indeed staggering!! A Conservation "Happening" unequaled in angling history! Not to mention the many muskies that have been documented to have been caught multiple times, like one Wisconsin fish that was caught, tagged, and released at 30 pounds; recaptured again and released at 37 pounds and finally caught and kept at 48 ½ pounds…catch and release works. And some of those released muskies were OVER 60 inches long!!!
Let us not forget too, the many taxidermists along the way. Two notables immediately come to mind. Ron Lax early on contributed hundreds of cleithrum bones to Dr. John Casselman and Dr, E.J "Ed Crossman's "Cleithrum Project" which aided in accurate aging of muskies back when many muskies were still being kept and Ron and his son Rick later developed spectacular looking Replica's to encourage release and eliminate the need to keep, charging the same for them as for a skin mount (they have been actively supporting MI for over 30 years), and they and fellow taxidermist Joe Fittante have both been huge contributor's to Muskie's, Inc. and other clubs to aid in the cause. With the huge increase in the number of muskie anglers since the 1970's, arguably due to C&R, our muskie fisheries would be unable to take the onslaught without Catch and Release. As the late Jack Burns once said, "Dead muskies don't reproduce."
The Good 'Ol Days of Muskie Fishing are NOW!!
And now that first "Hotspot":
The Big Weed Bed
Where the Mississippi River enters Big Lake Winnibigoshish, Minnesota, is a huge weed bed, The Big Weed Bed. While "Big Winnie" is not considered by many to be a top tier muskie lake, due in part to its large size and lack of what is considered muskie structure, it has over the years, put out several giants, including the Minnesota State Record of 54 pounds (heavier when first weighed), 56 inches long. There are those that think The Big Weed Bed is where Art Lyons caught his State record fish. Sister lake, Little Winnie too, has produced a muskie over 50 pounds.

5' tall Art Lyons strains to hold his State Record monster.
Dr. Jerry's 50" release (and possibly the State record Lyons muskie) were not the only big muskies that used The Big Weed Bed. Twice in 1971, I missed a giant that I estimated at 45 pounds (possibly the one caught and kept there the following year, a 46 pounder) and my cousin Rod, the next year, caught a dandy that took 3rd place in the tournaments weight division.

"Muskie Rod" Ramsell and his 3rd place muskie.
Next, we go to another Hotspot area that made BIG noise in 1955; the Leech Lake, Minnesota "Muskie Rampage". It made big news when it happened and created the Legend, but as we will learn, it also occurred several additional times in later years, although they were not as spectacular as the first.
Portage Bay, Leech Lake, MN
As was the case with 40-Acre Shoal in Part I, Portage Bay of Leech Lake, located by Federal Dam, Minnesota, is more an "area" than a "spot" and needs to be defined further here. Portage Bay is an extremely large bay and the "Hotspot" that this write-up is referring to is the extensive area of sand humps topped by muskie cabbage on the left side of the bay as you head into it from the main lake.
While this area has long and continuously been a great producer of muskies, it obtained Legendary status in 1955, when the muskies of Leech Lake seemingly went wild and a couple of hundred were caught and kept there in two-weeks and a 105 from 17 to 42 pounds 6 ounces, were caught and kept there in the first five days!
To best tell the story, we will refer to excerpts of that great article "The Leech Lake Muskie Rampage", in the November 1955, issue of Outdoor Life magazine by Jack Connor:
"Experts baffled as 105 muskies are caught in Minnesota lake splurge.
"No one suspected that muskie catching records would be shattered — or even challenged — on that still, steamy Friday morning, last July 15. By 6 a.m. that Friday, the mercury had already vaulted to the upper 70s, and Warren Bridge, fishing launch operator at Federal Dam, Minnesota, was wondering why any angler would want to be taken walleye fishing on such a day…
"…He was dripping sweat by the time his passengers boarded, but he took them out to Leech Lake…The 20 mile stretch of Portage Bay lay open to him on a southwest bearing and he cruised up to…Two Points.
"…Suddenly Warren's roving eye caught the flash of a rolling muskie. Why not try it?
'I figured this was better weather for muskies than walleyes,' he said later. 'They like it hot and still.'
"From the bow he dredged up an eight inch minnow shaped plug, hooked it onto a l2 inch, 45 pound test cable leader, and heaved the contraption at the muskie's eddy. He was using a two-handed surf casting rod and 40 pound line.
"The fish struck like a flesh starved tiger. It followed through with a leap that cleared the surface four feet.
'Only weighed 30 pounds," Warren commented " But the taxidermist at Nevis figured it would have weighed 45; its stomach was empty.'
"That afternoon Warren was back…with his brother Delbert. They picked up a 20 pounder and a 17 pounder.
In the evening…Mr. and Mrs. Al Storer, … who have a cabin on nearby Boy Lake…drove to Federal Dam and got a boat from Merle Wescott, another launch operator. News of the hot muskie strikes had preceded them and Merle, his father, and son, were about to take off for Two Points. By dusk, the Storers were back at the landing with two big muskies. The three Wescott's pulled in later with five more.
The word passed like a prairie fire whipped by a high wind. Before dawn the next day, Saturday, the little town of Federal Dam, population 200 plus, was jammed with cars. People were pounding on the doors of the five launch operators — Bridge, Wescott, Bob and Garry Neururer, Warner Stillman, and Al Bader whose 15 launches could only accommodate 105 people. Ten extra rowboats could handle 30 more.
'Saturday was like a dream," Mrs. Storer said later. "Boats were everywhere. Those big muskies were right on the surface and leaping all over the place. In nearly every boat somebody was landing or playing a fish.'
Nineteen of them scaling from l8 to 40 pounds were brought to the boat landings before dusk — certainly some kind of a record. The 40 pounder was boated by Ralph Hewitt of Des Moines, Iowa, who was vacationing in the area.
Now the word spread to radio and television stations in the Twin Cities. Sunday dawned upon complete bedlam in Federal Dam. The caretaker at the dam counted 180 cars parked in the 200 yards from the dam to the five landings. The town' s two cafes ran out of food before sunup. People came with duck boats, rowboats, prams and scows. By midmorning there were 89 boats at the hotspot…and one seaplane — with four men fishing from its pontoons.
'Well,' said Warren, 'that Sunday was a record breaker, even though it was calm, hot and muggy again. By 10 o'clock several launches were flying muskie flags — hand towels tied to the handle of a landing net. Eleven muskies were brought in that morning.'
In the afternoon 15 more were caught. Some boats had two on at the same time. Guides were warning other boats to stay clear when a muskie was hooked. It meant nothing. Muskie plugs and spoons were at a premium, and there were no favorites. The fish were hitting anything that moved. A few of the launch operators even rented muskie plugs.
And so, the great day of the Leech Lake muskie rampage came to its climax. No one knew how or why the fish had gone berserk. Crowds kept coming for a week, until the winds turned north, cooled the water, and Leech Lake's muskies stopped their striking spree and took to sulking.
L.G. Hiller of St. Louis, Missouri, who was among the successful anglers, said he had fished the bay about 200 times in the past 30 years and never hooked any large muskies.
Now that there was time to think local operators tallied things up and found that 105 muskies had been checked in at the landings from Friday through Tuesday. Walter Kreutner of Shellsburg, Iowa, appears to have wound up with the heftiest.

One of history's most bizarre "happenings"-post card photo
fish of the lot — 42 pounds, 6 ounces. No one could guess how many muskies were caught and not reported by anglers who brought their own boats…
…'A muskie needs an area 100 to 200 feet square to get enough to eat,' Warren (Bridge) said. 'But I saw 25 caught in an area less than 100 feet square. And they didn't put up the fight they usually do. Ninety percent of them were boated in less than 10 minutes. It stumps me…"
In Jim Peterson's Outdoor News July 16, 1976, we have this editorial comment: Will there ever be another "Muskie Rampage" at Leech Lake or any other lake? Excerpts from that article follow:
"While checking on recent muskie catches with Jeff Arnold of Reed's Tackle Shop in Walker, Minn., and with the Walker


They all came, many caught, but what did it do to the population?
Chamber of Commerce, we got to talking about the big
explosion of muskie action back in 1955. That's when 51 muskies from l8 to 42 pounds were caught in two days, July l6 & 17, 1955, and before the week was out more than 100 fish were caught.
So, this weekend is the 21st anniversary of that big Leech Lake rampage — and are conditions ripe for another one?

By wheelbarrow full they were caught-Neururer photo from post card
'Yes,' said Arnold. 'It's been sticky hot again, the same as it was in l955. But, if I were to predict another rampage, I would be crazy. Nobody can do that. However, the lake level is fairly low, like it was in '55 — and there has been a lot of muskie activity. We had 17 muskies weighed in here last week — and that doesn't count the big number that are being released every day.'"
And the Leech Lake "Muskie Rampage" was still making news in 2003. In the summer 2003 issue of Esox Angler magazine Dan Craven revisited the '55 rampage and allowed also as how there had been several other "Rampages" in subsequent years as well: 1962, 1976, 1983, 1986, 1991, 1996 and 2002! Albeit these following years were on a smaller scale and few muskies were killed and photographed as had been the done in 1955. Ironically, I was fortunate enough to get in on the 1976 bite while spending the day with Chan "Doc" Cotton and joined for the afternoon and evening by Roger Halvorson, who had been in on the '55 rampage, both of whom were noted and Legendary Leech Lake anglers.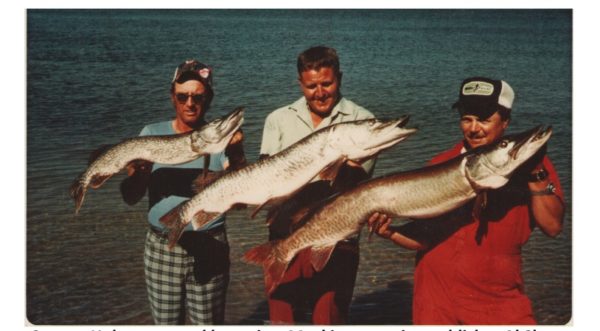 Cotton, Halvorson, and long-time Muskie magazine publisher Al Skaar
After Roger joined us, he promptly caught and released six (6) while Doc and I watched! I think we ended up with eleven caught and released that day caught and released, and in talking to just a few other boats I totaled 28 caught that day that I knew about. It would sure be interesting to know just how many others were caught on Leech Lake that day as well!
In his July 24, 2005 outdoor column, Chris Niskanen of the St. Paul Pioneer Press brought the "Rampage" back to life once again in an article entitled, "They're still talking about the '55 muskie rampage on Leech Lake". A key phrase from that article was "The muskie rampage…is an indelible part of Minnesota fishing lore and the history of Leech Lake". Indeed!
I am sure that there are many other Hotspots that I am not aware of even though I have fished muskies in 23 states and 2 provinces of Canada over the past 65 years. Any reader who knows of one or more Legendary or famous Hotspots, please let me know with a write-up of same and supporting photos if available and I will include them in a follow-up article(s). How about some of you Lake of the Woods guys?
Send it to me at: larryramsell@hotmail.com
Thank you!
28th Annual Challunge on the Chain – The Oldest & Largest Muskie Tournament of Illinois – All details and rules…
Team & Rules Meeting for the Monday Night Muskie League is set for next Monday, May 15, 2023 – Details…
The Fox River Valley Muskies Inc Chapter will host their Monthly meeting with Austin Wiggerman as their guest speaker this…
GET THE NEWSLETTER
Join the List and Never Miss a Thing.
GET THE MAGAZINE
Subscribe & Save
Give a Gift | Subscribe Services