Want to hear more about the Georgian Bay?
World-Famous or Legendary Muskie "Hotspots" Part VII
by Larry Ramsell, Muskellunge Historian
Where will the next World Record muskie come from? My good friend and fellow author, Bill Hamblin (Billy and I co-wrote a five-year series of "Musky Hunter's Almanacs" from 1996 thru 2000), believes it will come from Georgian Bay, where he guided for several years. When I started writing this series on muskie "Hotspots", I reached out to him for multiple reasons, least of which is his vast knowledge of Georgian Bay and the Legendary "Hotspots" he knows and has fished. These facts were borne out to me once again as I re-read his recently published (2015), GREAT book on fishing the Bay and one man's story of spending "120 Days" of a single season chasing a record muskie there. The cover of his book is a photograph of a point of land in "Blackstone Harbour" (Canadian spelling),so we will have a look there. According to Bill, "The photo features the point off of which Ken O'Brien caught his Canadian record, 65-pound musky. It's as famous a spot as there is on Georgian Bay."
That, to me, makes "Blackstone Harbour" a must to be included in this series of World-Famous or Legendary Muskie "Hotspots"!
O'Brien's Point, Blackstone Harbour, Moon River, Ontario.
Blackstone Harbour
by Bill Hamblin
When I first wrote about the Moon River in the book "120 Days", I called it the Bays "Grand Buffet" – more because of its geological offerings and the multitude of opportunities it presents for either casters or trollers. Blackstone Harbour is connected to the Bay and the Moon River system by a man-made blasted channel. It's a microcosm of that famous buffet. Blackstone has something for everyone, sandy shoreline, steep breaking rock shoreline, rocky points, large weed and rock covered flats, rocky shoals, a fast water inlet, beautiful green cabbage, deep water and oh yes – the magic alchemy of Georgian Bay genetics.
The Harbour, so named for the protection it offers boaters from the bay rather than the actual existence of a physical harbour, doesn't have the storied past of say, Coleman's Reef on Eagle Lake, Pete's Bar on the Chippewa flowage or Wisconsin's iconic Lac Vieux Desert, but what it does have is consistent tales of giant fish. How can you go wrong! And Ken Obrien started it all for Blackstone Harbour on a cold morning October 16, 1988.
As John Power, the Toronto Stars musky enthused outdoor writer, would pen in his column 3 days after witnessing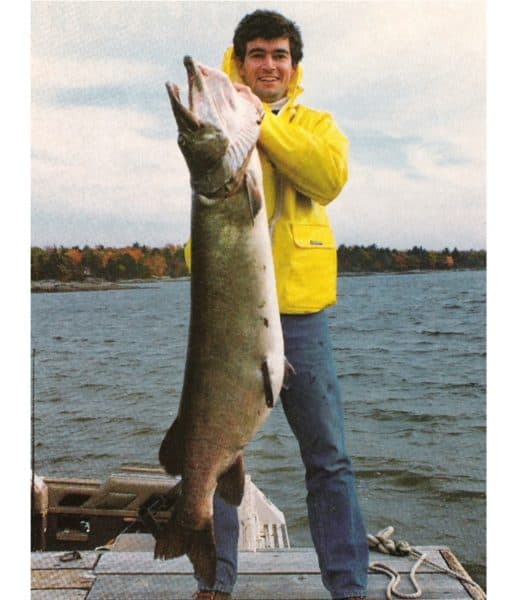 Ken O'Brien and friend – courtesy John Power.
the aftermath, "The 28 year-year-old Toronto accountant rewrote the record book and debunked a heap of musky fishing theories with a mind boggling 65-pound lunge which unseated the Canadian Mark of 61 pounds, nine ounces taken in Eagle Lake back in 1940."
We'll pause here from Bill's dissertation and review the story of O'Brien's record catch that I put together in 1988:
Toronto, Ontario angler Ken O'Brien was fishing for "Whatever would bite", as he told me in a telephone interview. His catch made immediate international news and was covered in dozens of newspapers in the US and Canada and his catch story was written about by me in Fishing Facts magazine in the January 1989 issue as well as in Ontario Out of Doors magazine in the February 1989 issue by O'Brien with John Power. I had, after getting the details of the catch from Ken on the telephone, made a trip to Mac Tier and Toronto, Ontario thereafter and viewed the frozen fish and obtained more information from one of his fishing partners.
On October 16, 1988, Ken O'Brien pulled a modern-day giant from Blackstone Harbour of the Moon River in Ontario. For a brief time, this muskie was recognized as the Internal Game Fish Association (IGFA) All-Tackle World Record after the Lawton record was set aside by them and before John Dettloff convinced the IGFA to replace it with the Cal Johnson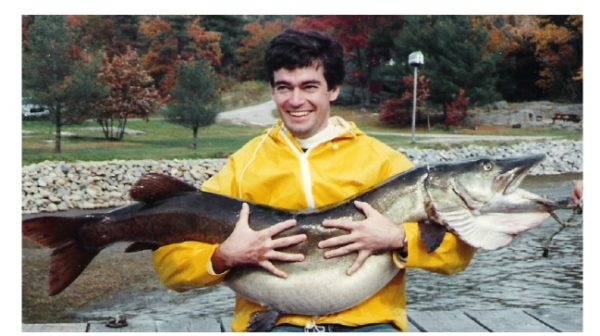 Ken O'Brien 65# Giant, Moon River, Georgian Bay, Ontario – 1988
Photo courtesy Derek Chantler, Deer Horn Lodge
Hayward fish, even though it had never undergone world record scrutiny. As of 2007, O'Brien's fish is the IGFA 12-pound test line class record. It is also the 12-pound test line class record, as well as the "Heaviest" muskellunge in the National Fresh Water Fishing Hall of Fame (NFWFHF) Muskie Power Trolling Subdivision.
When word of the O'Brien muskie spread, it made sensational news all over North America and dozens of newspaper and magazine articles were written. I wrote an article about it for Fishing Facts magazine in the January 1989 issue entitled Mammoth Musky. Since my information was first-hand, I shall refer to that article for the information that follows.
"Muskie anglers rejoice! There may still be a chance to catch a new world record Muskie! On October 16, 1988, muskie history was made as a 65-pound monster was pulled from the Moon River basin of Ontario's Georgian Bay by Toronto angler Ken O'Brien.
…"This is only the third verified 60+-pounder ever caught from Ontario waters…The monster fish is also a new Ontario and Canadian record.
…"As is always the case, truly BIG muskies are females. This 65-pound behemoth was aged at about 29 years using the cleithrum method (the boomerang shaped "collar bone" at the back of the head under the gill plate) at the Royal Ontario Museum. This most accurate of aging processes was developed by Dr. John Casselman, of the Ontario Ministry of Natural Resources).
"Toronto accountant Ken O'Brien and his fishing partners Mark Airstone and Rob Yamamoto plied the waters of the Moon on Saturday and came away empty. On Sunday they were "fishing for anything," in "Blackstone Harbour" and at 11:30 a.m. the 65-pounder was landed. Ken was trolling a 4 1/8th-inch long countdown Rapala on a 4-inch wire leader tied to 8-pound test Trilene line. Four split shot were clamped on the line just above the leader. Some fish attractant had also been put on the lure. Ken related that he had considerable fishing experience on other parts of Georgian Bay but was fairly inexperienced on the Moon. He said he figured his lure was running "about 15 to 20 feet down." When I asked him what depth water he was fishing he said he didn't know since he didn't have a depth finder.
"Upon hooking the goliath muskie O'Brien thought he was snagged on the bottom, until the "bottom" started to move. After 15 minutes of battling the unseen lunker it finally surfaced. O'Brien still wasn't sure about what the near 5-foot fish was, because he had never before seen a live muskie. I asked him about his trolling speed and he said, "I was going slow. In fact, all the other boats were passing me by (Muskies Canada was having a Derby and 25 boats of die-hard muskie hunters were also on the Moon)." At any rate, the battle with the 65-pounder took about 25 minutes, apparently without much trouble. Ken was fortunate that one of his fishing partners had a gaff along (even if it was a light, 3-piece, screw-together type) which they used to land the fish. Rob first missed the fish with the gaff, then Mark gaffed it and had a heck of a time pulling it in, despite being a weightlifter.
"The big "old" gal was probably reaching the end of her life span. I was told that she had only 2 of her big teeth left. Approximately 400 people gathered to see the MAMMOTH history-making fish when it was brought in…."
We'll now return to Mr. Hamblin's write-up:
Since that day musky hunters consumed with the prospect of catching the next world record, and losing sleep over past failed prospects, have stealthily launched their boats in Blackstone Harbour in search of the next world record. Noted

Gary Ishii Moon River – 55-pounds – 1981 Photo courtesy Gary Finkler
Moon River fisherman Gary Finkler (He guided his cousin to a monster 55-pounder at the Moon River 10 years earlier) may have come close in "Blackstone Harbour". In 1991 Gary was casting his favorite 10 inch, Suick jerk bait there when a behemoth belted his bait. Finkler said, "It was mind boggling – dwarfing the 55-pounder that's hanging at home. Almost as long as my rod, which is close to six feet." It was released! It's encounters such as these that help perpetuate the mythology surrounding historical musky waters.
Blackstone is by no means an easy fish. John Power once wrote of it, "Blackstone is a frustrating fishing hole. Your depth sounder tells you it's chock-full of fish, big and small, but almost all afflicted with lock jaw." This has been my experience more often than not. In fact, my sonar often mistakes the dense clouds of bait baitfish for bottom. That said I am not without the occasional memorable moment on the fabled body of water.
Guiding on the Moon back in the '90's I would often reserve Blackstone for the final stop of the night. One evening I was guiding four fishermen, two in my boat and two others of the group in another. I pulled up to an inconspicuous reef surrounded by deep water and waited for the others to join us. Anxious to unleash something (LOL!) they arrived under full 200hp in their Ranger not realizing they had just buzzed the daylights out of the shallow reef. Was their buddy in my boat ever pissed! But such is Blackstone. After a good 30 second tongue lashing, he bent over picked up his rod and with one cast was hooked into his personal best, a beautiful 50-inch sunset musky. On another occasion I was fishing with Wisconsin musky buddy Tommy Moes. Pete Maina's Burt jerk bait had just hit the market and he gave me a couple to try out (actually he insisted). On the deepest point of the aforementioned reef, I had an incredible strike within a few casts. The fish was gone in a flash! Given the slim profile, hard plastic composition, and excellent hooking potential of the bait I was stunned. At the very least it deserved close inspection upon its return to the boat. Sure enough, imbedded in the bait were three Jurassic teeth. They had actually penetrated the baits body. Did I say something about losing sleep over failed prospects?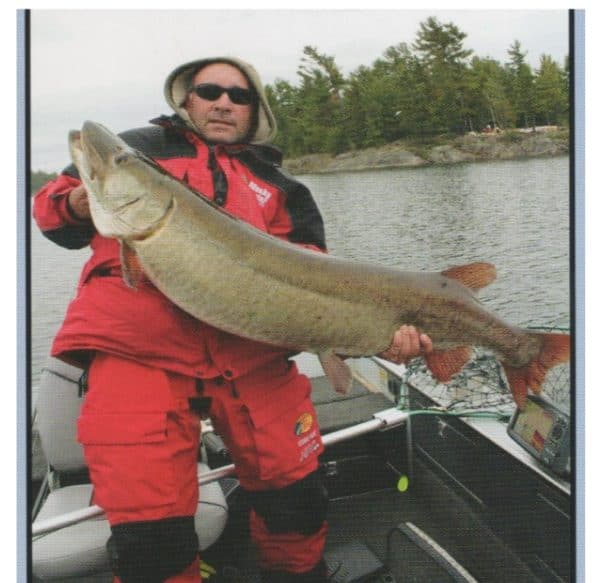 Billy and a Georgian Bay Beast. Courtesy Bill Hamblin.


Blackstone Harbour waterbody, Moon River (top center of picture) amongst the Canadian Shield rocks. An aerial view of just a tiny portion of the vast 300 miles and a "Bazillion Acres" of Georgian Bay waters. Photo courtesy Bill Hamblin.
Top of my mind, whenever I fish new musky waters, is to search out its historical sections. Often, it's to live in the moment of an iconic fisherman, after a life-times culmination of fishing, who unbeknownst to them, is about to enter a body of water into the historical archives. Case in point. After reading Larry Ramsell's first "Compendium" and Part VI in this series, I was taken with the story of Bill Tutt and his epic battle on the Turtle Flambeau-Flowage with "Big George". Suffice to say, the first time I ventured to Wisconsin to trace, in depth, the historical roots of musky fishing, I met Bill Tutt then boated out to the Baraboo section, and his personal contribution to the musky mythology.
PS: Interested in Blackstone? Go to Google Earth and type Blackstone Harbour into the search engine. Apparently, Google musky fishes.
To get a copy of Bill's great book, contact him at:
Bill Hamblin, 718 Dunbar Road, Kitchener, Ontario, Canada N2M 2X6
Or via email at: whamco@hotmail.ca
I am sure that there are many other Hotspots that I am not aware of even though I have fished muskies in 23 states and 2 provinces of Canada over the past 65 years. Any reader who knows of one or more Legendary or famous Hotspots, please let me know with a write-up of same and supporting photos if available and I will include them in a follow-up article(s).
Send it to me at: larryramsell@hotmail.com
Thank you!1
By Steve Heiting:  Since the Double Cowgirl exploded on the scene there have been thousands of giant muskies caught on…
GET THE NEWSLETTER
Join the List and Never Miss a Thing.
GET THE MAGAZINE
Subscribe & Save
Give a Gift | Subscribe Services