Illinois Requests You To Participate in the Muskie Creel Survey
The Illini Muskies Alliance and the Illinois Department of Natural Resources are jointly sponsoring a muskie creel survey. The purpose of the survey is to gain valuable information regarding muskies caught that only you the angler can provide. Anglers catching a muskie should complete the information requested on this web form as soon as possible. When you complete the form, click the submit button.
Thank you for your cooperation. Please practice CATCH and RELEASE!
IMPORTANT INFORMATION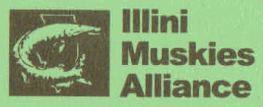 Current Illinois fishing regulations require that pure muskies harvested or kept be no less than 48″, 42″ or 36″ in total length from selected waters. Tiger muskies kept from selected waters where they occur must be 36″ in total length or longer. Anglers should refer to the current year's "Illinois Fishing Information" booklet to determine site specific length limits or contact the local DNR office for additional information. Thank you for taking the time to complete the information requested.
By Steve Heiting:  Since the Double Cowgirl exploded on the scene there have been thousands of giant muskies caught on…
GET THE NEWSLETTER
Join the List and Never Miss a Thing.
GET THE MAGAZINE
Subscribe & Save
Give a Gift | Subscribe Services